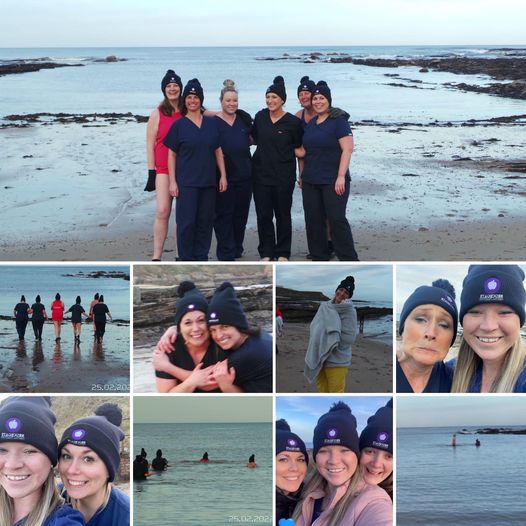 On friday 25th February some of the team braved the North Sea. In aid of Ryan Renton's fundraiser for his cancer treatment.
Ryan is a 26 year old Berwick local who is battling stage four Lymphoma. There are currently no treatment options left in the UK apart from some chemotherapy to try and give Ryan a little more time with his family.
After some research his family have found options in Spain, America and Israel. But they are not cheap so have begun fundraising. Their goal is to raise £500,000 towards further treatments.
Sarah, Liann, Jackie, Claire, Nicola and Tanya took the plunge and dipped into the North Sea on Friday to help with fundraising for Ryan.
What a way for them to end the week with a bracing swim in February!
A Huge THANK YOU to all our patients who supported them with sponsorship, we have raised £400 so far.
Now lastly but no means least, thank you to the fabulous support team who attended the beach on Friday night. Who were on hand with big fluffy towels, hot water bottles and the most delicious hot chocolate. Warmed up a treat.
We really hope Ryan gets the treatment he needs, much love to his family and friends.
If you would like to donate to his fundraiser please click on the link > https://www.gofundme.com/f/help-us-save-ryans-life