Dental Implants – Are They Right For You
Dental Implants are fast becoming routine treatment within dental practices, here at Brucegate Dental Practice we carry out the procedure within the surgery, so no need to travel (unless otherwise told at your consultation).
From replacing a single tooth to full mouth implants, here's all you need to know…
What Is A Dental Implant?
It is a titanium screw that is placed into the ja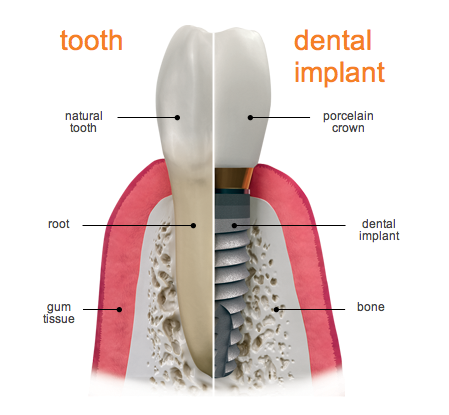 w bone, just like the root of a tooth. Once in a successful implant will bond to the bone, this process can take up to 6 months post surgery. Dental implants are designed to last a long time (25 years and over) and are the closest replacement to a natural tooth, compared to dentures. Taking care of your implant is essential to get the best from them, this includes regular maintenance appointments.
However, not everyone is suitable for implant placement. It all depends on whether your jaw has enough bone and it is strong enough. This will all be discussed during the implant assessment.
What to expect during your assessment
There's often a lot to take in, so the dentist will go through the treatment process and timescales with you, as each individual's needs are different.
Photographs, dental impressions and X-rays may be taken at this appointment to check bone levels in your jaw, so they can assess your teeth for the position of the implant. Pros and cons will be discussed. It is a good idea to bring along any questions you may have too. After the initial assessment you are not tied into any treatment it is purely to check you are suitable. If you decide you would like to go ahead the dentist will contact you in writing, covering all aspects discussed at the initial consultation and answer any further queries you may have.
What would make me not suitable for implants?
In general most adults are suitable for dental implants. The main reasons you would be advised that surgery may be more complicated or best avoided are the following;
Have

Gum (periodontal) Disease

Are a

Smoker

Have

Bone Loss

(in your jaw) – Although this can be helped with bone grafts.
Have had

Radiotherapy to your jaw area

Have

Diabetes (that isn't well controlled)
Always be honest about your medical history with the dentist, so they can assess you properly and tell you whether implants are an option for you.
Replacing Single Teeth or Smaller Gaps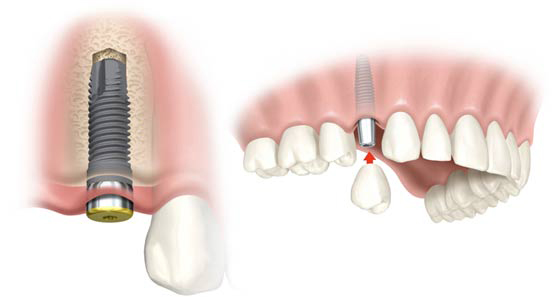 A single implant is strong enough to support replacing one or several missing teeth, so no need to get an implant per missing tooth.
Replacing Full Mouth Dentures
If you just can't get on with dentures, or you find dentures have become loose and ill fitting the next option for you may be replacing them with dental implants. They can be used to support full or partial dentures. There are a couple of replacement options.
Option 1.
Screw retained bridge a non removable (fixed) bridge also known as 'all on 4'.
Similar to above you don't need a full mouth of implants to support a full denture. Usually 4-6 implants are sufficient. This is because, unlike single implants where a crown is fitted to the implant to replace the tooth, a denture is attached to the implants as illustrated in the diagram to the left.
Option 2.
Removable Denture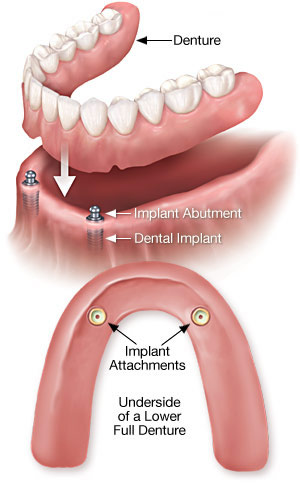 Some dentures can be made to be removable by you the patient, with a "press stud" action. Two implants are usually enough to support this.
Taking care of your Implants
Following the advice of your dentist is imperative to the out come of the implant surgery. Good gum health is essential as gum disease can see the implant fail. Visiting dental hygienist and keeping up with dental check ups.
Implant Success
The success rate for implants is around 95% in non-smokers. In the even of an implant failing it is generally possible to replace it within a few months. In addition to the possibility of implant failure, there is around 20% risk of a few days of swelling and/or bruising, and a slight risk, less than 1%, of damage to the nerves of adjacent teeth, leading to the need for root canal treatment. The percentage success rates are provided to allow you to reach an informed decision on treatment. There can be absolutely no guarantee that any implant will succeed in an individual case. We would stress that the long-term success is also dependent on good continued oral hygiene, regular professional cleaning and monitoring as advised.
Taking into account the above, implants are being seen to last as long as natural teeth. If for any reason the crown fails – this is usually due to fracture of the porcelain, and a new crown can be constructed to replace it.
Advantages
1. No other teeth are involved and therefore, healthy teeth are not cut down as retainers.
2. Full chewing function is regained
3. Good aesthetics
4. Easy to maintain
Disadvantages
1.The cost
2. The length of treatment time to allow for full integration of the implant.
Call the practice and book your free consultation to find out if you are a suitable candidate for dental implants.
Tel; 01289 306084
*Images courtesy of Nobel Biocare*