Tooth Whitening, is it safe?
Tooth whitening is a safe and effective way of lightening your teeth, when carried out correctly by a registered dental professional.
What is It
The process involves using a peroxide gel that is absorbed into the tooth, where it whitens from the inside by dissolving stains to get them to the lighter shade you would like.
Because every ones teeth (just like hair and skin) can range in colour from yellow to a brown tinge, results will differ from person to person. Your teeth may not go bright white! but can be noticeably lighter by several shades.
How it works
There are two different ways in which you can choose to lighten your teeth, either in the comfort of your own home, or in practice whitening. We have both options available here at Brucegate.
At Home Whitening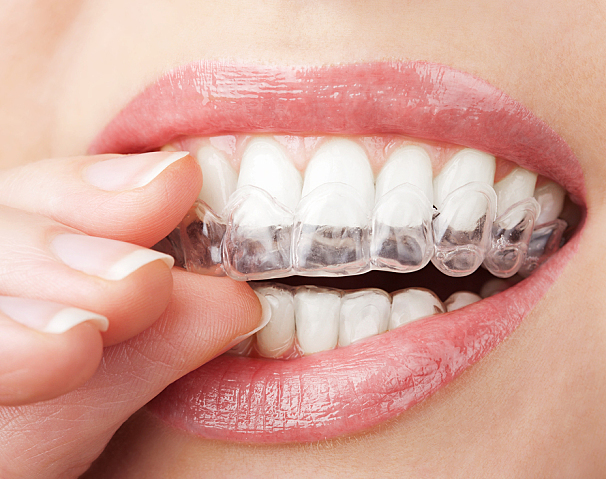 If you would like to whiten your teeth in the comfort of your own home at a time that's most convenient to you, then home whitening is the perfect choice.
Although it's called home whitening you do still have to pop into the dental practice initially. This is so firstly the dentist can check that your teeth are healthy and are able to be whitened. Once you have the go ahead from your dentist they will then take impressions of your teeth. The impressions are used to make your custom whitening trays.
Once made, your dentist will provide you with the home whitening kit: (Whitening gels come in different strengths) Your dentist will prescribe you the correct formula dependent on your needs. You will then be shown how to use it correctly.
The kit also has a handy shade guide so you can keep track of your progress. The home whitening process usually takes from 1 to 2 weeks, with visible results in as little as 3 days.
In Surgery Whitening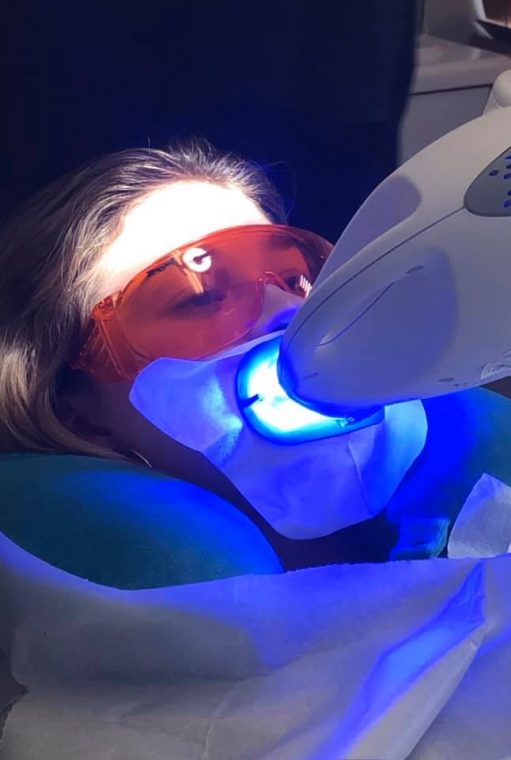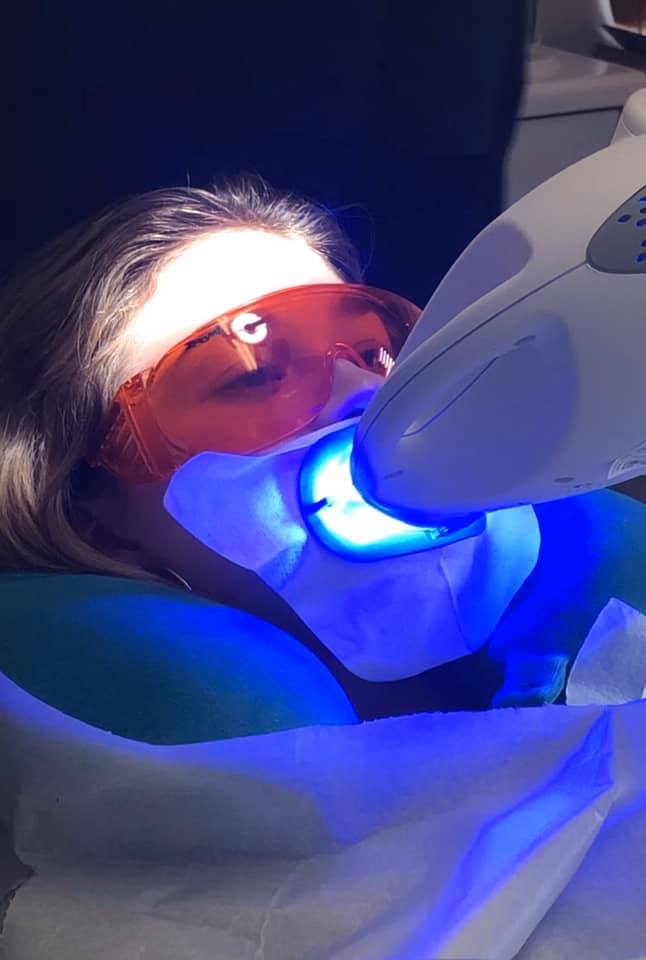 If you would like immediate results then this is the whitening treatment for you. It is the quickest and easiest way to whiten teeth effectively.
Before having this procedure, much like the home whitening you will have a check with your dentist to make sure you are eligible for the treatment i.e. your mouth and teeth are healthy. At this check the dentist may take impressions if they think you will need the added take home whitening system.
In practice whitening can take up to 2 hours but this includes pre and post op instructions. Your dental professional will make sure your mouth is resting in a comfortable position during the procedure and you will still be able to swallow.
Whitening gel is painted onto your teeth, then activated with a laser/light, this process takes around an hour, and can give you results of upto 7 shades lighter on the same day.
Before you leave the practice, you will be given customised trays and a take-home whitening kit, so that you can top-up your smile when needed (This isn't always needed).
Side Effects
The most common side effect of tooth whitening is sensitivity. In your take home kit sensitive tooth pastes will be provided to help relieve this. If sensitivity persists stop using the whitening gels and contact your dental care provider.
Does it work on false teeth?
No unfortunately it doesn't. If you have fillings, crowns, veneers etc that are visible when you smile they would stay the colour they are and only your natural teeth will lighten. This is why a consultation with your dentist is important before having treatment so they can advise the best course of treatment. It doesn't mean you can't whiten your teeth as crowns and dentures can be replaced, but will be a more complicated treatment.
How long will it last?
Tooth whitening usually lasts up to 18 months. This does depend on the individuals diet and life style. If you drink high staining drinks such as red wine/black coffee and tea, or if you smoke, you may notice the teeth start to stain sooner than the expected 18 months.
This can be corrected by using the at home customised trays to top-up when needed. Top-up gel syringes must still be prescribed by your dental professional. These can be bought individually instead of a whole course like you had at the beginning.